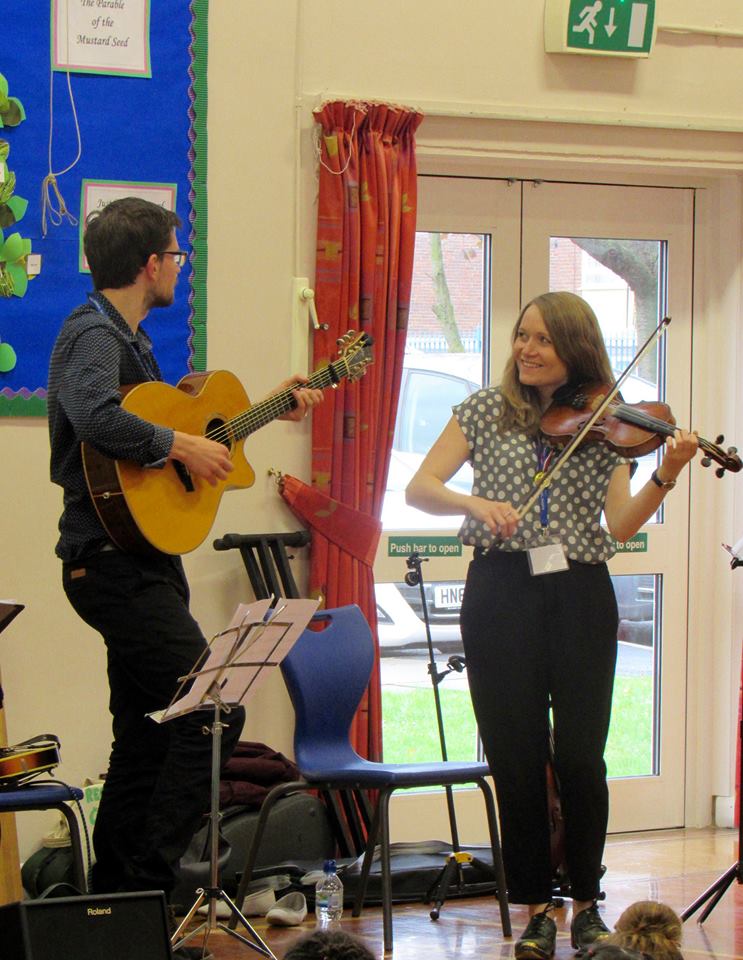 Portsmouth Music Hub is celebrating its seventh anniversary this year, and to mark the occasion the music group Quintessential has been touring city schools, bringing live music and entertainment to hundreds of local children.
Quintessential is a group of professional musicians from all over the country who come together every year to give Portsmouth children the opportunity to experience the sights and sounds of musical instruments up close. This year the group were performing world folk music, which included a special clog dance, and the children were amazed by the songs performed and the variety of sounds that a musical instrument can make.
The whistle-stop tour around Portsmouth Schools was part of Live Music Portsmouth. This is a city wide campaign to bring the sounds of the orchestra to Portsmouth schools, and since its launch 18 months ago, thousands of children have had the chance to experience the classical sound of the orchestra in schools and venues across the city.
For the past seven years Portsmouth Music Hub has been bringing groups like Quintessential to Portsmouth as part of its ongoing mission to deliver musical and cultural opportunities for every child throughout the city. During this time thousands of children have experienced a range of concerts and events, from world-record breaking drumming to performances from the Royal Marines Band Service, from cultural carnivals to musicals about cats, and every day Portsmouth Music Hub delivers a range of opportunities to hundreds of aspiring young musicians to sing, play an instrument and perform.
Quintessential visited Portsdown Primary School, Springfield Secondary School, Langstone Junior Academy, Cliffdale Primary Academy, St. John's Cathedral Catholic Primary School and Westover Primary School.
Sue Beckett, CEO of Portsmouth Music Hub said: "It's been a fantastic few days of music-making, and it was inspiring to see the enthusiasm and excitement of the children as Quintessential performed. Portsmouth Music Hub, and its dedicated team of musicians, continues to go from strength to strength, developing new projects and events, and reaching out to new organisations to join us in delivering the very best musical and cultural opportunities for all the children and young people in Portsmouth."